Upload Your Files
You can be assured that your files are safely uploaded over an encrypted connection. They will be permanently deleted after processing.
To upload your files from your computer, click "Upload PDF File" and select the files you want to edit or drag and drop the files to the page.

To upload files from Dropbox, Google Drive or from a website where your files are located, expand the "Upload PDF File" dropdown list and select your files.
​​​​​​​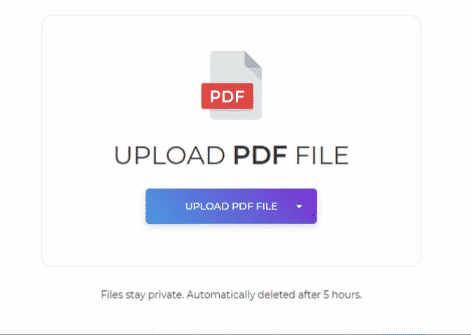 Page Ordering
To combine the odd and even pages, just click on the "Mix PDF Files" button.
If the files are not in the correct order, all you need to do is drag and drop them. The odd pages should be on the top and even pages on the bottom.
Tip #1: Collect and Combine Reverse Even Pages
If at some point, the even pages are scanned in reversed order (6,4,2, etc) you should select the option "Reverse Order" under the Pick Pages category. This way, the pages will result in the correct order.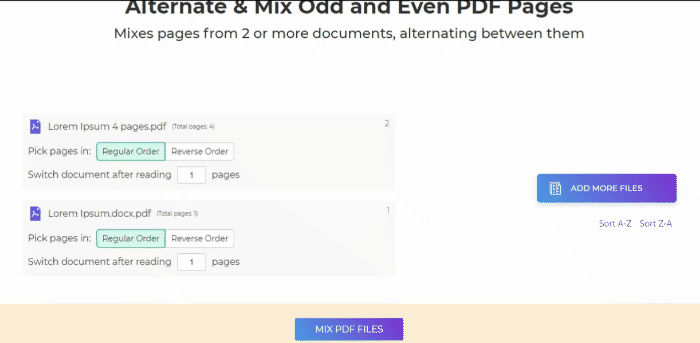 Tip #2: Combine and Alternate Pages Using a Different Step
When combining and alternating pages, one page is picked from each document by default. But if you need to do it in another way, you can use a different step.
Example: You need 2 OddPages.pdf inserted between every 2 pages from EvenPages.pdf. To do this, just change the value to "2" under the "Switch Document After Reading" category.
Download Your Work
Once everything is set, click on the "Mix PDF Files" button and save your file according to your preferred option - "Download" to save to your computer, upload to your online storage or print.